Appreciating the significance and the need for innovation capabilities for MBA students, TinkerLabs conducted an intensive Design Thinking workshop for 240 MICA MBA students. We planned a hands-on immersion in the process to make the students understand the nuances and importance of Design Thinking in professional as well as personal life. Business education in India is largely analytical in nature and gives students a toolkit to handle varied information and take logical decisions. However, business problems in the real world also need us to be innovative. And in today's scenario where customer expectations and business trends evolve so swiftly, the industry is increasingly looking for the innovative approaches. Hence, business schools globally are testing approaches to develop creative problem skills in their students.
TinkerLabs approach: Innovation With Purpose
Design as a discipline provides an interesting mix of methods and tools to MBA students, which lets them craft creative solutions to vague and complex business situations. So that's what we did. We posed to them challenges based on United Nations Sustainable Development Goals- students were guided in applying Design Thinking methods to build innovative solutions and develop their own creative confidence.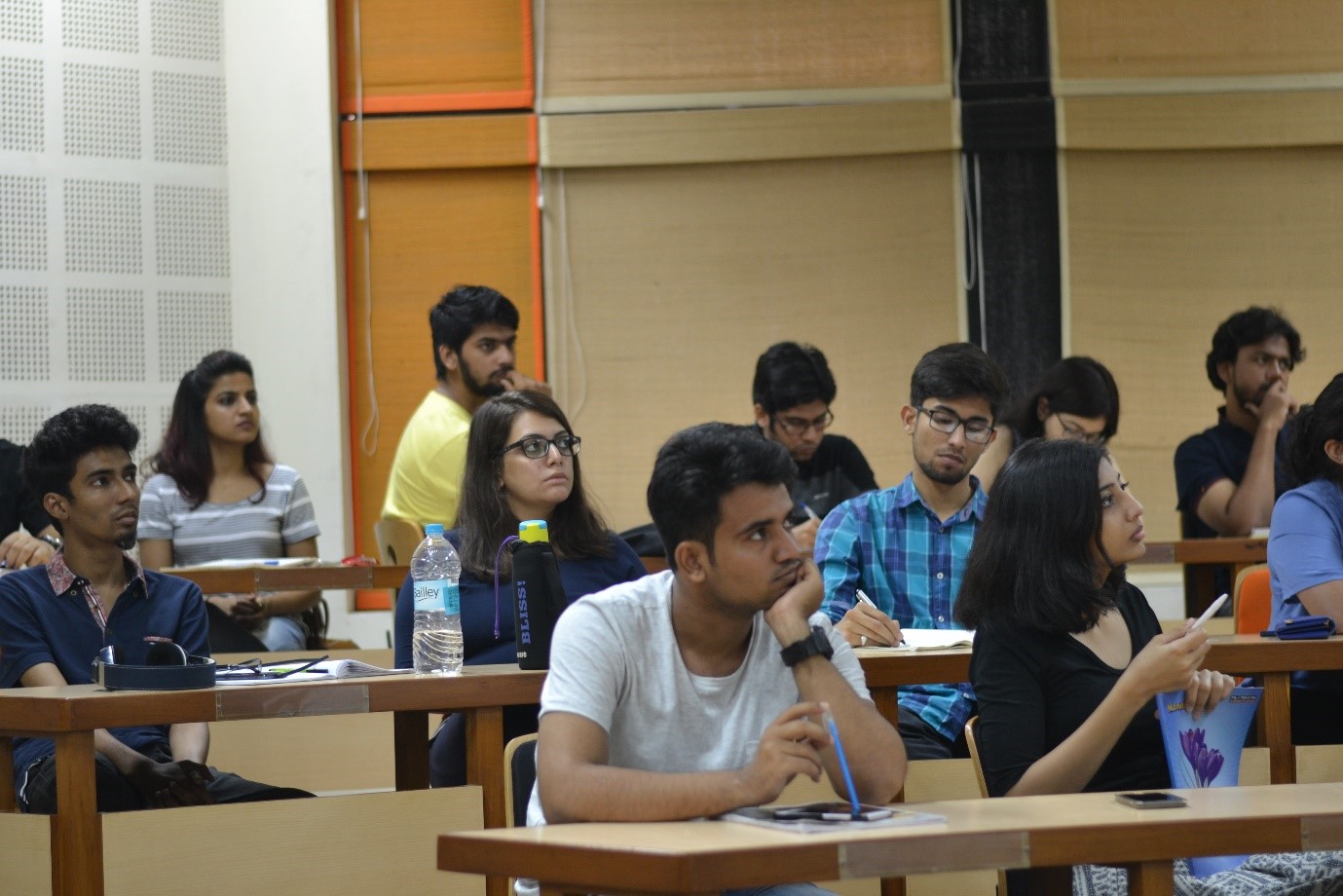 What happened on ground:
We began with a fun and rapid Design Thinking exercise, and once the students were familiar with the tools, we divided the students into teams. The flavour of the workshop then quickly turned from learning to challenge driven exercises, for which the teams were assigned challenges modelled around the UN Sustainable Development Goals - like how to relax effectively at a physical and mental level in the middle of all the activities and social media, how to take charge of a situation against discrimination, how to be the environment saviour you aspire to be.
Students started the exercise by interviewing their peers and reflecting on their own past experiences. Once they had interesting insights about the challenges, the students were taken through some creativity exercises where they mapped various possible ideas around the challenges. During the exercise, we went deeper into every step of the Design Thinking process, and introduced new tools and methods for each stage. This helped them understand the intricacies at every step in the process.
Teams came up with 70-80 ideas each, to choose from. Selected ideas were then prototyped as live services to be executed and run within their campus. Students were entirely engrossed in making their ideas work and they actively looked out for resources, people, contacts, and more.
The teams were then encouraged to share their prototypes, gather feedback, and iterate on the solutions. This gave them an end-to-end hands-on experience of Design Thinking.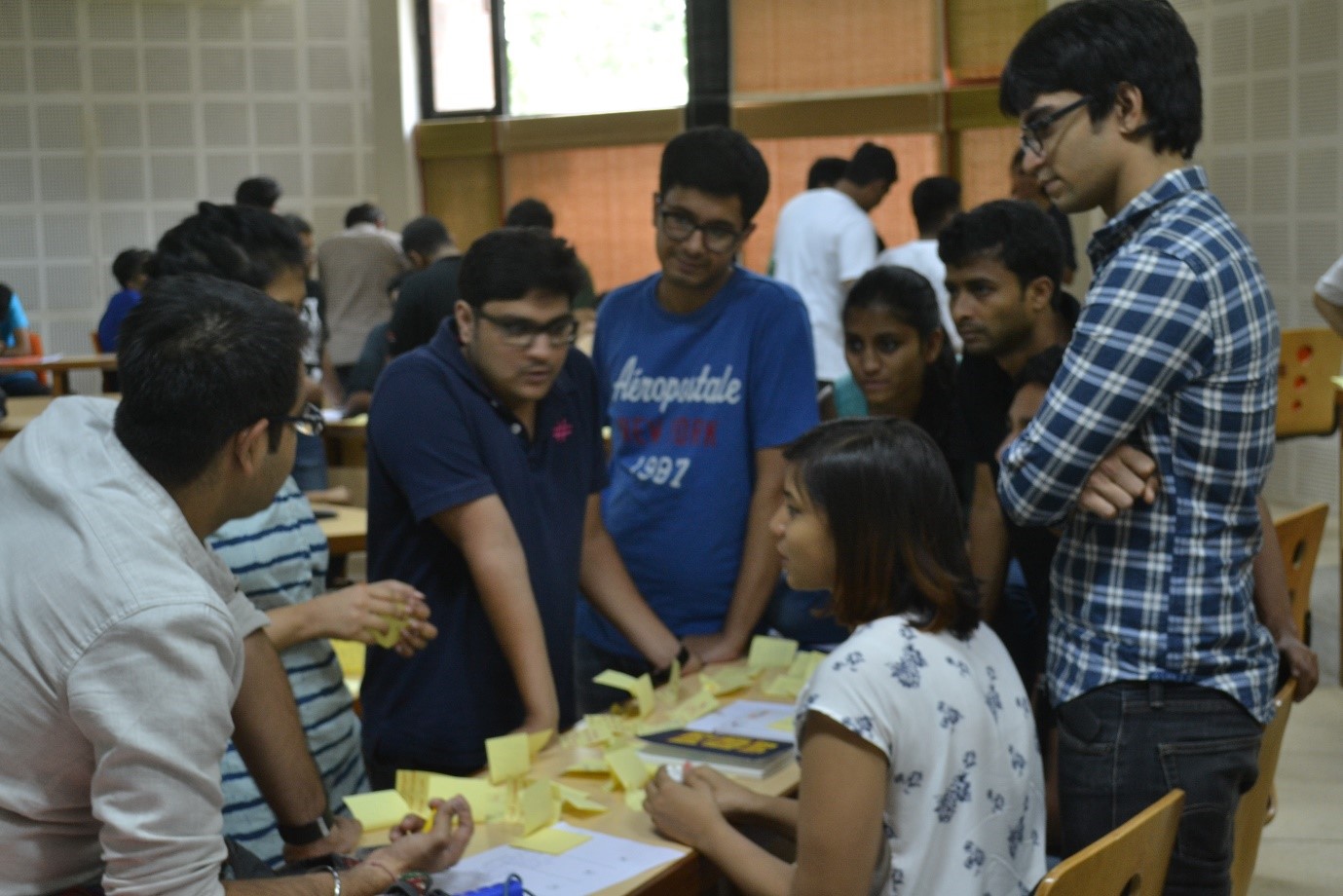 What did we achieve:
Future managers who have an extensive knowledge of the tools of design thinking and who are capable of solving intricate business challenges with innovative solutions. As the challenges were not class-bound, the students could have a real-world experience and take these learning and implement them in their lives. It was heart-warming to see students kick about managing professional as well as personal aspirations with a 'Design Thinking' approach.
Teams came up with exciting sets of solutions to the Design Thinking challenges. In answer to the challenge - how to relax effectively at a physical and mental level in the middle of all the activities and social media, a team had a very interesting approach. During their empathy research they came to an understanding that as soon as any activity ended (like a lecture or a session), students are inclined to look into their phones and get on social media, even if they had checked the latest updates 30 minutes ago. So, the students came up with the idea of an app that was based on Pokemon Go, and just like you need to find the Pokemons, this app would allow you to find people on campus who have interesting hobbies. So, when you find them, you can hit it off with your 'hobby-sake'. It was fascinating and impressive because students mapped their own lives and the solutions were inspired by their own behaviours.
The students came up with another whacky solution for the challenge – how to be the environment saviour you aspire to be. Their idea was a mobile dating app like Tinder. The catch? It lets you know the plastic and carbon footprint of your partner. You can swipe right or left based on that. They even came up with a skit to explain the idea. It so happens that ideas seem silly at first, but they turn out to be practical at a later stage. Though a very far-fetched idea, it was fun and the students loved it. Design Thinking was pushing the students to go crazy and think out-of-the-box.
Not only this, to get the maximum mileage out of the DT workshops, TinkerLabs came up with the concept of relay-workshop. Which means, coming up with a number of actual solutions for a problem, which when accumulated will likely be real solutions to the UN Goals for Sustainable Development on a local and global level.
Highlight of the project:
This was the first time a workshop was conducted on the theme of UN SDGs, and we came up with solutions that had real-world implications. Design Thinking for a greater good!